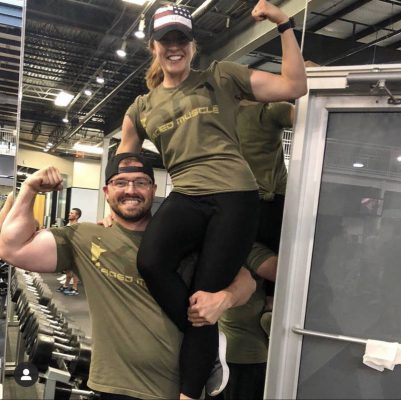 Local Pros – No Chains or Franchises
We here at Jacked-Nutrition believe good nutrition is a key component to properly fueling our daily lives. That is why we are committed to changing the lives of others by providing fresh, affordable, convenient meals that help our Jacked-Nutrition family stay accountable to their goals without sacrificing their nutrition.
Hey there! We are the Jackson's or as we like to introduce ourselves; Allen & Jessie Jackson  (No relation and no not the reverend). We wanted to first of all thank you so much for visiting our page, and we cannot wait to connect with you and help you on your nutrition journey.

Our story is a journey in and of itself not unlike a three-part saga that includes sequels, prequels, and side stories all along the way- However, we will try and keep it short and sweet here!

Nutrition has always been a key component in our individual daily lives however, we quickly discovered the struggles of being able to eat healthy anywhere you are. Even on our first date we found ourselves scrambling from store to store trying to find something that was healthy, quick, and delicious. With only fast food and grocery store options we found ourselves having a moonlit dinner on the tailgate of Allen's truck with a rotisserie chicken, coconut water, and grapes.

Perhaps you are nodding your head (either in laughter) or in agreeance that good nutrition and a busy lifestyle do not always mix. This is where we found our passion to be!

When it comes to work, fitness, and eating right we went through our fair share of struggles but found our solution in meal prep. We've made it our life's mission to impact our community by providing a service that allows you to crush your goals, spend more time with your family, and save money all without having to sacrifice nutrition. As if that was not enough did we mention these meals are delicious? You will easily find pancakes, pizza and burgers all in our meals and yes, they are all healthy!

Through our services you can expect not only a high quality product but high quality service. Our team is committed to these 8 core values to ensure optimum service;

·         Extreme ownership

·         Willingness to help others

·         Practicing gratitude

·         Personal development

·         Leadership by example

·         Practicing humility

·         Bring value daily

·         Having a passion for our mission

We want you to know you are not alone on this journey and we are here as a family to help encourage, educate, and engage you as a positive support system after all , "preppin' ain't easy".